December
07,
2021
How You Can Stand with Persecuted Christians This Christmas . . .

Wycliffe Associates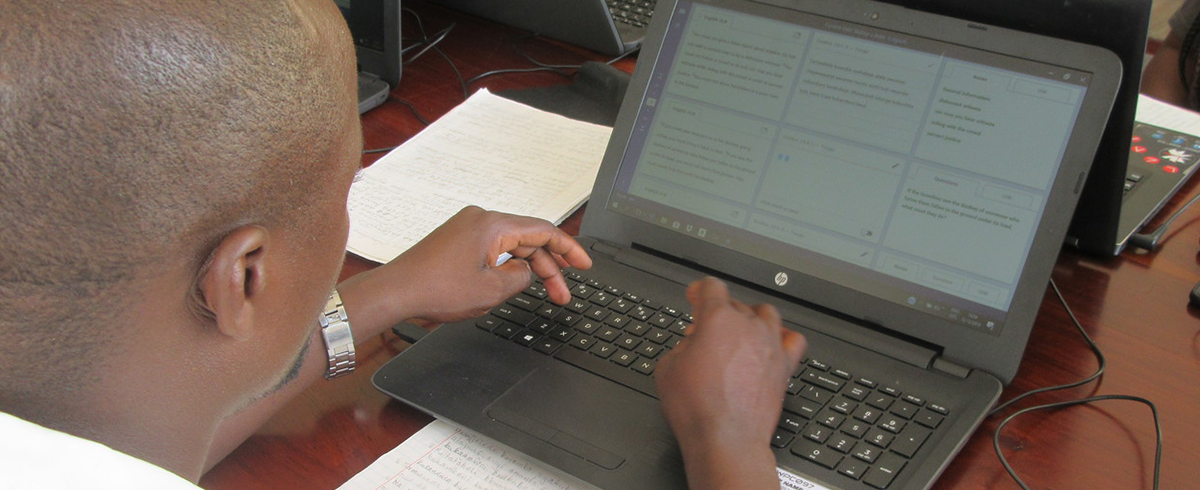 In this blog post, you will hear from Mark Stedman, Vice President of Information Technology at Wycliffe Associates, about the challenges facing Christians in some of the most dangerous and poor places on Earth and the one thing they yearn for above all their needs. In his words—
Every day, Christians face persecution . . . some of it subtle, some of it deadly. Jesus warned that we would have trouble,
"I have told you these things, so that in me you may have peace. In this world you will have trouble. But take heart! I have overcome the world." —John 16:33
In the 50+ years Wycliffe Associates has partnered with believers to help them translate Scripture into their heart languages, we have seen great suffering and lost many friends to those who will stop at nothing to thwart the advance of the gospel.
Not long ago, an attack in Nigeria by militant Muslims took the life of a pastor. Persecution has been increasing for Christians in this region, but this murderous attack forced believers to run for their lives as the gunmen destroyed everything in their path.
Pray with us for these, and all other believers, who have suffered tragic losses for following their faith. Pray that they know not just Jesus' warning to us about the tribulation we will face, but also of the assurance He gave in that same verse (John 16:33),
"But take heart! I have overcome the world."
Because our translation partners often risk all to see God's Word in the language of their heart, we cannot give up either. Instead let us trust and say, "Lord, Your will be done" (Matthew 6:10).

There are many other challenges that stand in the way of Bible translation beyond persecution, including war and unrest, natural disasters, and spiritual warfare . . .
Poverty is a common denominator for most of those who seek our help. For people living on $1 a day or less, for subsistence farmers hoping to reap enough to feed their families, for people who haven't been able to work because of the pandemic . . .
For these Christians, they simply don't have the tools they need to proceed with Bible translation . . . not without God moving in the hearts of other believers to provide them with the technology and training.
An Incredible Opportunity For National Bible Translators
But God is great, and He does hear the cries of his faithful children who ask to have the Bible in a language they can fully understand.
Here at the close of 2021 and on the cusp of a new year, work is underway to equip 40 translators with the technology and training they need to start translating the Scriptures for their people.
These kits cost $1,500 each, and our goal is to provide each partner with a kit that includes a computer loaded with our Bible translation software, space for backup and storage, access to a library of translation resources, plus the training they need to begin translating the Scriptures.
When you provide a Technology for National Translators kit, you provide:
A computer with digital translation tools and a virtual library of translation resources
A safe way for translators to work in hostile environments
Opportunities for translators to work together across great distances
The ability to store and back up all translation work—quickly and safely
A platform for God's Word to be easily shared and ready to distribute
I pray we can say yes to each and every Bible translation partner because some of them have waited so long—generations, centuries. And I pray every believer will give generously knowing that with each verse, chapter, and book that is translated into a language where it didn't exist before, God will fan the fires of faith, transforming entire communities through His Word.
The goal is within reach, thanks to a $60,000 Matching Challenge Fund—given by caring Christian friends—which will match every gift dollar-for-dollar up to the fund amount to equip translators who are waiting now.
Please prayerfully consider a gift today, which will be doubled by the Matching Challenge up to $60,000, to help provide our translation tools and strategy to believers who are praying for this chance to translate His Word into their language so it can be shared, studied, and used to bring the unreached to faith in Christ.